SmartFix automatically fixes the most common problems and even cures your computer from unknown malware, which antivirus cannot find. After integration SmartFix is available in the Start menu and in the Recovery Environment on the F8 at boot time for WinXP and above.
Download SmartFix.exe
To send files for analysis and add them to the white/black lists please use the form below. You can select multiple files or just drag them to the button, they will be submitted for review automatically.
Permitted extensions: jpg, gif, png, 7z, rar, zip, exe, dll, sys, txt, log, up to 200 MB in size.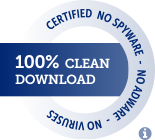 The program is completely free, including for commercial use. Instruction.